Another short-selling…
What's going on with Coinbase
By Dominique Jacquet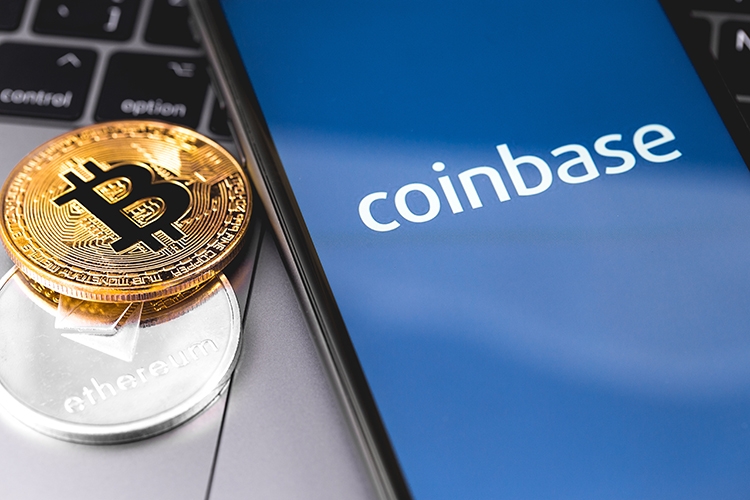 On March 18, when Coinbase's stock price reached $186 for a market capitalization of nearly 50 billion US dollars, Jim Chanos sold short (you borrow the securities with the promise to return them accompanied by a contractual remuneration, then you sell them hoping that the price collapses…) a little more than 4% of the firm's shares.
What rationality? Coinbase is a profitable company whose EBITDA represents, in the 4th quarter of 2021, more than 50% of revenues, net income more than one-third of sales, the latter having multiplied by more than 6 from 2020 to 2021.
Jim Chanos won his titles of (financial) nobility by selling short the shares of Enron before the fall, then of Luckin Coffee, Wirecard and Hertz… In short, an experienced and credible man who received the sweet nickname of "catastrophe capitalist ".
Chanos analyzes accounts, tries to uncover potential fraud and worries when he identifies a firm whose performance he considers to be "too good to be true".
Behind this assessment can hide two very distinct situations: an accounting fraud which overestimates profits, on the one hand, a temporary and fragile profitability which should disappear, for example under the effect of competition, on the other hand.
In the May 2021 vidcast describing Coinbase's IPO, we analyzed the two sources of transactional revenue: "individual" and "institutional". Clearly, the volume is on the institutional side, but the margins are generated by the individuals, and by a lot. We concluded the vidcast with the question: "What level of recurring margin?" ".
The following two graphs show the quarterly evolution of transactions and the fee rate applied to the two categories of customers: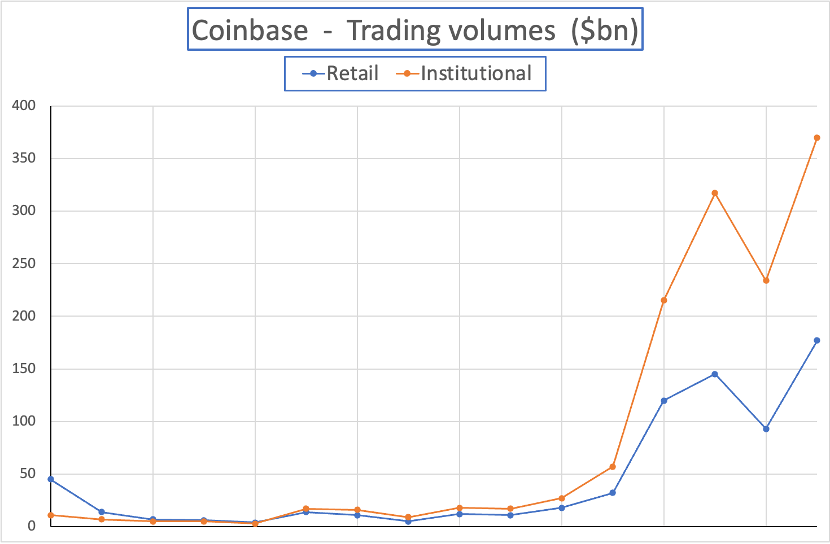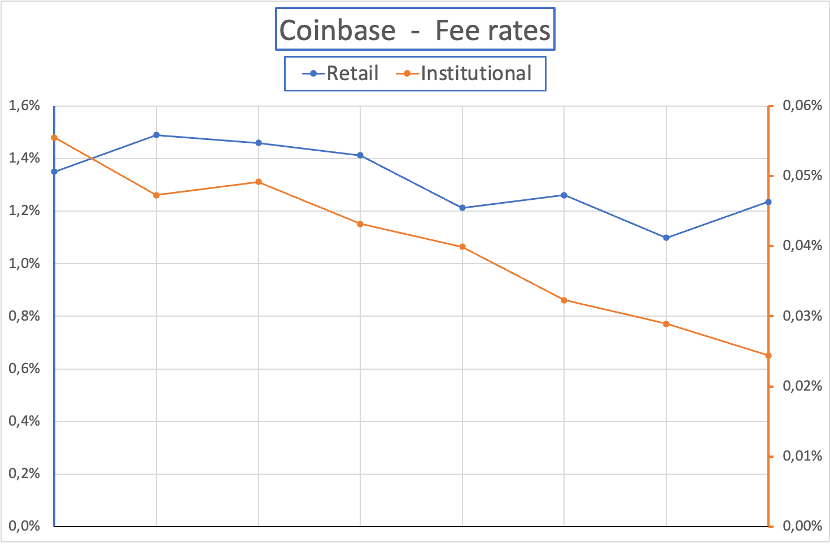 After obtaining a fee level of around 1.4% from individual clients, the firm still charges 1.2%, but for how long? The growth (volume) comes from the institutional, but the latter pays in the order of 0.025%, which, in total, represents $346 million in revenue for Coinbase in 2021 while the individuals were charged at 6.5 billion.
Operating expenses represented $3.5 billion in 2021. A simple calculation shows that a division by 3 of the fees collected from individual customers pushes Coinbase into a deficit. Admittedly, this would be a sharp drop, but that would represent a fee rate of 0.4% on transactions, which is far from unrealistic in a situation of increasing
competition.
Coinbase has announced that 2022 is a risky year. The accounts for the 1st quarter will probably not be published until mid-May.
Meanwhile, after Jim Chanos' announcement, the price rose to a high of $207 on March 29. Today, April 14, it is $147, i.e. a loss in market capitalization of around 11 billion since March 18. The gain (before compensation) of the short seller would be $440 million… And the winner is…